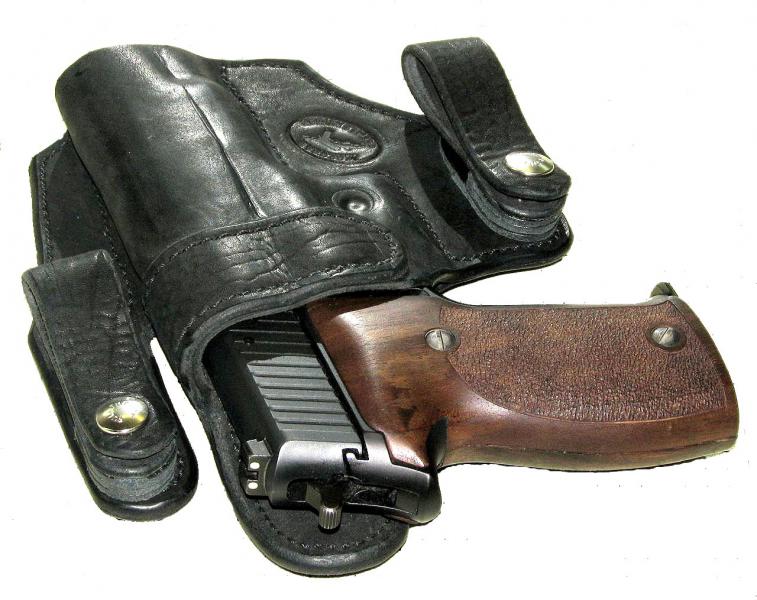 This is our version of the side-strap, Inside-the-Waistband holster designed by Milt Sparks. This design is the pinnacle of concealment holsters. Worn behind the strong-side hip, it's supported both by the waistband of the pants and the belt. It's the most concealable type of holster for a mid- to full-size pistol.
This holster sits deep inside the waistband for good concealment. Most of the gun is concealed inside the pants. We offer two types of kydex clips that enable the wearer to tuck in a shirt over top of the holster.
This holster features:
-- a molded-in sight track.
-- a steel band in the throat for adjustable retention and easy reholstering.
-- a leather guard to keep the hammer and spur from biting into your side.
-- instant mounting and dismounting from the waistband using replaceable leather straps.
-- a deep ride inside the waistband that hides your pistol from prying eyes.
-- an open cut to ensure that you can get a proper, complete grip right from the start.
-- custom molded to fit the specific model of gun like a glove.
-- replaceable leather straps that lock the holster to yout belt with military grade Pull-the-Dot one-way snaps.
Pricing: $85 in black Hermann Oak cowhide, for small- to full-size autos, or small-frame revolvers; $95 in drum-dyed, soft-rolled horsehide if available, for small- to full-size autos or small framre revolvers; $95 in natural tan horsehide or small- to full-size autos or small frame revolvers.
Tuckable Kydex clips are $10 extra.