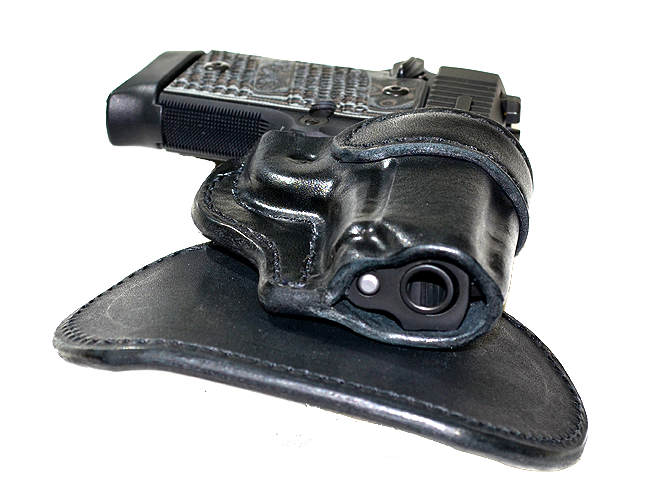 This is a great way to carry one of the new generation of compact, lightweight pistols.  No belt required: This outside the waistband holster tucks into your pants and pinches the top of your waistband for stability. Concealed by a loose shirt or jacket. You can reposition it anywhere from 1 o'clock to 4 o'clock on your strong side.  Especially popular with women.
This holster features:
-- a molded-in sight track.
- a steel band in the throat for adjustable retention and easy reholstering.
-- a leather guard to keep the hammer and spur from biting into your side.
-- instant mounting and dismounting from your waistband.
-- a higher ride that pulls the holster tight to your side, and keeps the bottom of the holster from sticking out from under your shirt.
-- an open cut to ensure that you can get a proper, complete grip right from the start.
-- custom molded to fit the specific model of gun like a glove (unless it's made from fancier, chrom-tan leather).
-- replaceable leather paddle with a kydex spine
Pricing: $75 in black, russet or natural tan Hermann Oak cowhide; $85 in horsehide;  $95 in Black or tan pebble-grained, chrome-tan, lined with kipskin.