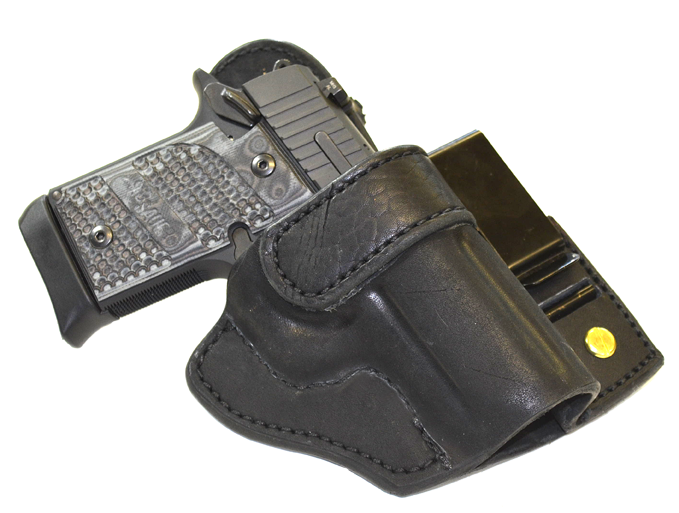 Here's a holster for a subcompact pistol that can be worn under a dress shirt with a suit and tie.   This holster rides inside the waistband (IWB) at belt level, clipped to your waistband, so the only part that is visible is the butt of the pistol.  Tuck your shirt in over top of the holster, and nothing is left showing but the clip. Buckle your belt over top of the clip, and it's virtually invisible.
This holster features:
-- a steel band in the mouth for adjustable retention and easy reholstering.
-- soft-rolled horsehide for greater comfort.
-- a leather guard to keep the hammer and spur from biting into your side.
-- A low ride for deeper concealment.
-- A spring clip that can clasp either the belt or the waistband.  
But appendix carry is not for everyone.  Many find it uncomfortable.  And good finger discipline is especially required.  An accidental discharge could have life-threatening consequences. 
Pricing: $70  in black, russet or natural tan cowhide, $80 in natural tan horsehide.  $80 in soft-rolled black horsehide, if available.